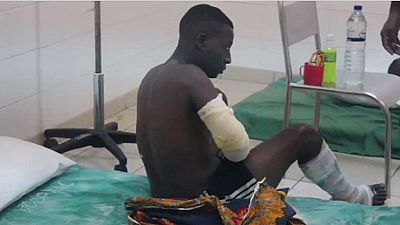 with AFP
Mozambique is still reeling from shock and grief following Thursday's accident, where 56 people were killed and 108 others wounded after a fuel tanker exploded. The hospitals in the country's western province of Tete were full, owing to the large number of patients from the incident. Doctors from private clinics have been called to reinforce service.
Veronica de Deus, Director of the Tete Hospital said: "Unfortunately, we still have a lot of critically ill patients, including children and two pregnant women, a total of 38 people."
Government health workers have been deployed to this hospital which is about 90km from the scene, and some 2,000km from the capital Maputo.
The Thursday night incident occured after a truck driver stopped to sell fuel to residents who gathered round the vehicle, before it exploded. But other reports say authorities were investigating whether the truck was selling petrol when it exploded, or whether it had been ambushed by residents. A local journalist had reported that the truck had crashed on Wednesday and exploded on Thursday afternoo